A Summary of Design
Design, Craft, & Fine Art
Beginning in the 1920s people begin referring to themselves as designers, serving industry. The distinction began with Josiah Wedgewood in 1759 who makes Ornamental Ware vs. Useful Ware. Useful ware is the first mass produced item. It is contrary to custom items in which only one buyer is needed. Designers create multiple objects., which appeal to the whim of fashion.
Arts & Crafts Movement
Developed In the first half of 19th century and was intended to counter cheap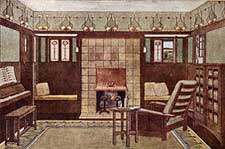 , mass produced goods. Cheap mass produced goods were typified by Joseph Paxton who created the prefab Crystal Palace at the London Great Exposition in 1851. William Morris counters with the craftsman-built Red House. Designers at the time believe mass production alienated workers from production and workers had no stake in quality. In 1861 William Morris founds Morris & Co to make handmade decorations. He emphasized simplicity & utility. Designs emphasize natural themes & "organic" decoration. In his desire for simplicity he creates "workaday" line of furniture vs. fancy "state" furniture. Like Ornamental Ware and Useful Ware. He also becomes a bookmaker & typographer and founds Kelmscott Press in 1888. May Morris, his daughter, manages the embroidery section from 1885-1910. William Morris main goal was to elevate the circumstance of the common man. He finally realized hand craft is prohibitively expensive and accepts the compromise of mass production. Others try to perpetuate craft quality and in 1901 Gustav Stickley's magazine "The craftsman" is published to idealize those goals. However, Simplicity, a fundamental value, is interpreted differently by Frank Lloyd Wright, William Morris, & Stickly. Design simplicity falls along two models: Geometric vs. organic.
Art Nouveau
style began in 1895 with works in the gallery of Sigfried Bing in Paris. Prime examples include Louis Comfort Tiffany glass and Fabrile glassware in which works were built up from the foundation layer. Inspiration came from shoots, willow trees, buds, & vines. It was curvilinear & undulating. Architecturally it was externally ordered & controlled but interiors expressed fantasy & sexuality.
Art Moderne aka Art Deco
began around 1907 and was an expression of fashionable luxury. There was no allusion to practicality, utility, or function. It was related to Art Nouveau by organic & asymmetrical themes. Artists typically tried to use rare & expensive materials. Another flavor used modern materials. Later on the whole movement shifted to to geometric shapes.
Avant-gardes
(back to top)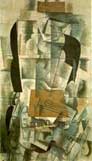 began appearing in 1925, and idealized standard things from industry. Mass-production was the true modern fashion. Geometric starkness predominated. The leading figures were Picasso & Braque. The style is often associated with radical political agendas. An offshoot was the De Stijl movement. Ikea seems to be the current descendant of the style. Another offshoot were the Russian Constructivists. They advocated simplicity of industrial and factory design. They embraced sans serif type.
Bauhaus
Machines were the salvation of humanity. The style attempted to break down barriers between crafts & fine arts. They advocated collaboration between craftspeople, painters, and sculptors. There was to be no difference between fine art & crafts. There were supposed to be no teachers; only masters, journeymen, & apprentices. All media should work cooperatively together. Their main theme was geometric simplicity.
Streamlining
(back to top)
in 1926 rounded geometric edges were promoted to produce less drag. 1934 the Burlington Zephyr made its first run saving time and fuel by significant amounts. Streamlined product designs carry over to goods. The style lasted into the 1960s.
The 40s & 50s
Right angles give way to curvilinear streamlining. Ames designed chairs. Tail fins on cars.
Contemporary design
sees the didactic tension between organic, geometric, natural, & mechanical themes. Coke bottle, swatch. Andrea Zittle combines design & high art for living spaces.
page last updated on May 1, 2010